Winery Events
---
April 2023
Sippin' in the Sunshine 2023
1:00 PM to 5:00 PM
Sat, Apr 1, 2023
Venue:
Historic Comanche Square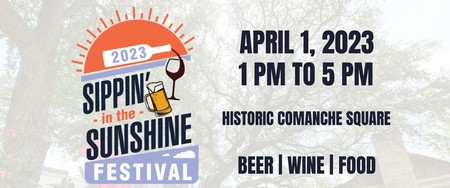 Join Brennan Vineyards at Sippin' In The Sunshine Festival on April 1st, 2023 at the Historic Comanche Square from 1 PM to 5 PM. This event will feature 10 different breweries and wineries offering tastings of their beverages. 10 Restaurants will also be present to provide a complimentary pairing bite for guests who are VIP Experience Ticket holders. Live music will be playing the entirety of the event as well as a couple of food trucks, the Comanche Market with vendors, and the various boutiques and shops on the square.
Pre-sale tickets are available for both the VIP Experience and General Admission.
VIP Experience Tickets are ONLY available for presale. VIP Experience Ticket holders will get 40 tickets to experience both the beverage and complimentary food pairing: 20 tickets to sample the wine/beer, and 20 tickets to sample the food bites.
General Admission is available for presale. This ticket includes 20 tickets to sample the various beer and wines. **Does not include tickets for food bites**
Tickets can be purchased on the day of the event but they will NOT include tickets for food bites.
LIVE MUSIC - Dustin Brown
5:00 PM to 7:00 PM
Fri, Apr 14, 2023
Venue:
Brennan Vineyards
Contact:
Nicole 325-356-9100,
nicole@brennanvineyards.com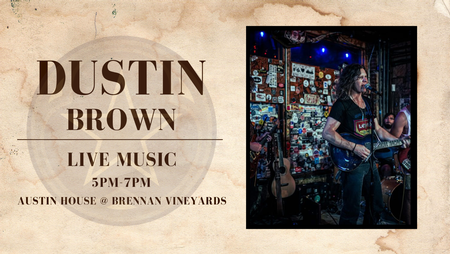 FREE Live music from Dustin Brown singer/song writer and river jammer. Wine and charcuterie available for purchase on the patio of the Austin House @ Brennan Vineyards.
Bring your friends for some Southern Rock and WINE.....