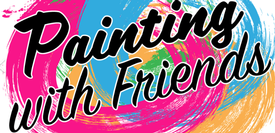 PAINTING WITH FRIENDS
Join us at Brennan Vineyards for a fun afternoon 'Painting with Friends'! MAY 19th from 1pm-3pm. Canvas, art supplies, glass of wine, and instruction included. Ticket price is $45.00.
VOTE FOR YOUR FAVORITE PICTURE ON FACEBOOK!! The pic with the most likes is the one we'll paint!! We must have 20 participants! Tell all your friends. This is a FUN EVENT!!