The Texas Wine & Grape Growers Association, or TWGGA hosts their annual conference and trade show every year where series of awards are given to deserving recipients. One of these awards is the Louis F. Qualia award, which honors the founder of the Val Verde Winery in Del Rio and recognizes the pioneering spirit in a Texas winemaker or grape grower.
Needless to say, the 2020 conference was an especially humbling time for all of us at Brennan Vineyards. Our very own Dr. Pat Brennan was awarded none other than the Louis F. Qualia award. From Dr. Brennan himself, he felt honored to receive the award. Although it was totally unexpected, he has truly appreciated all the great times he has had with the Texas wine industry. As he and his wife, Trellise Brennan, draw near the end of their wine career, they feel humbled to have met such wonderful people and feel like this was a great way to be recognized after years of hardwork.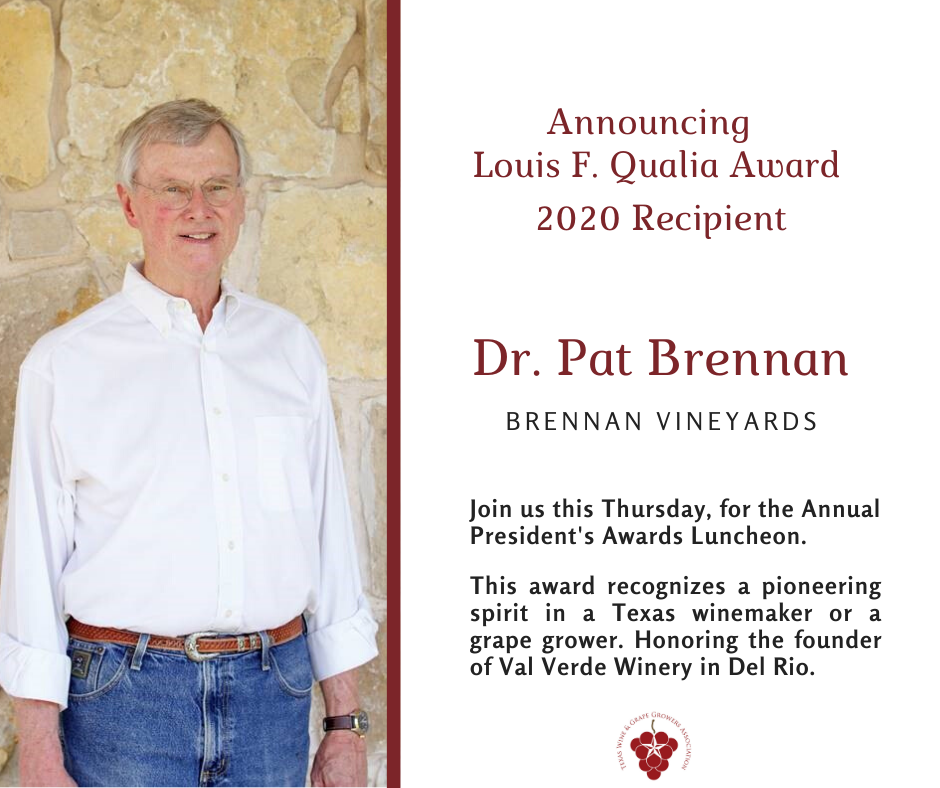 For those of you who are unfamiliar with the Brennan's background, Dr. Pat and Trellise Brennan's wine journey began in 2002 with the planting of Cabernet Sauvignon, Syrah, and Viognier. At the time, Brennan Vineyards only supplied grapes to Becker Vineyards. Soon enough, the two caught the wine making bug and began winery construction in 2004. Fifteen years later, the Brennan's have pioneered Brennan Vineyards into what it is today: A successful tasting room, around 10,000 cases produced yearly, and they own and operate approximately a 30 acre vineyard.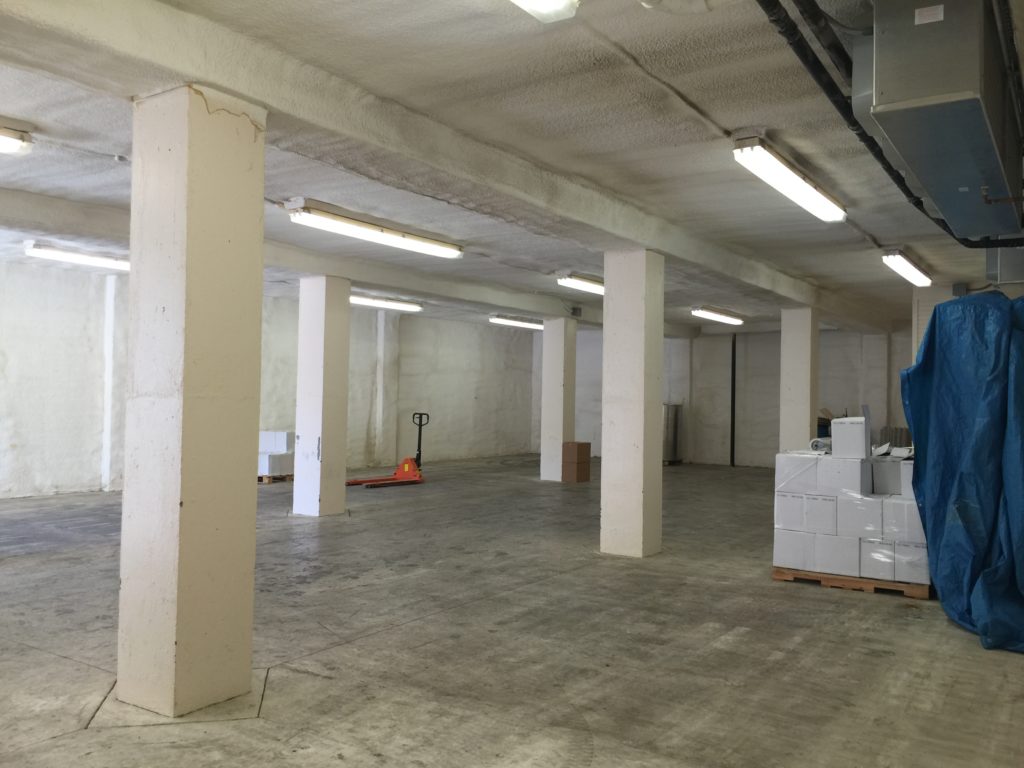 For those of you who didn't know, underneath the Austin House Event Center there is a full 2800 square foot basement that was originally purposed for case storage.
In the recent years, quenching Texans' thirst for Texas wines had become an uphill battle and Brennan Vineyards wine production quickly outgrew our wine storage. A good but problematic issue to have!
In the spring of 2016, Brennan Vineyards received a grant from the Comanche Economic Development Council that would help to grow our business in terms of a new and much larger case storage facility (64,000 cubic feet) and help with the purchase of a new bottling line to be housed in the former barrel room of the winery (more details coming soon).
And with the new case storage facility up, we were suddenly left with a sad and empty basement that would soon become the new home of the Brennan Vineyards barrels (which for the past few years we have been hiding in every open space possible). Inspired by beautiful sub-surface barrel storage and tasting venues of some of the greater known wine regions, we set out on a renovation journey to create a beautiful barrel room and private tasting venue.
The Colors: Benjamin Moore Paint Nature's Scenery (walls and ceiling) and flat black (floors)
Special Features: Romantic Lighting, Strategic Spotlights, Sliding Barn Wood Door, Custom Sawhorse Tables (together make a grand 40 foot table), Antique Early American Corner Cupboard (awards cabinet)
We are thrilled to say that the Cellar is officially ready for our 'Annual Barrel Tasting' at the Holiday Wine Club Pick Up Party and we cannot wait to share it with you!
What a transformation!
Big Thanks to all who worked so hard on this project and never gave up when things didn't go the way we imagined (many, many, times). Take a look at the gallery below to see the before and after photos.
Prep, Paint, and Lighting by Jackie Middleton and crew.
Custom Woodwork by Travis Conley