September 28, 2016 | Winery | Rebecca Conley
Welcome to the Cellar: Winery Renovation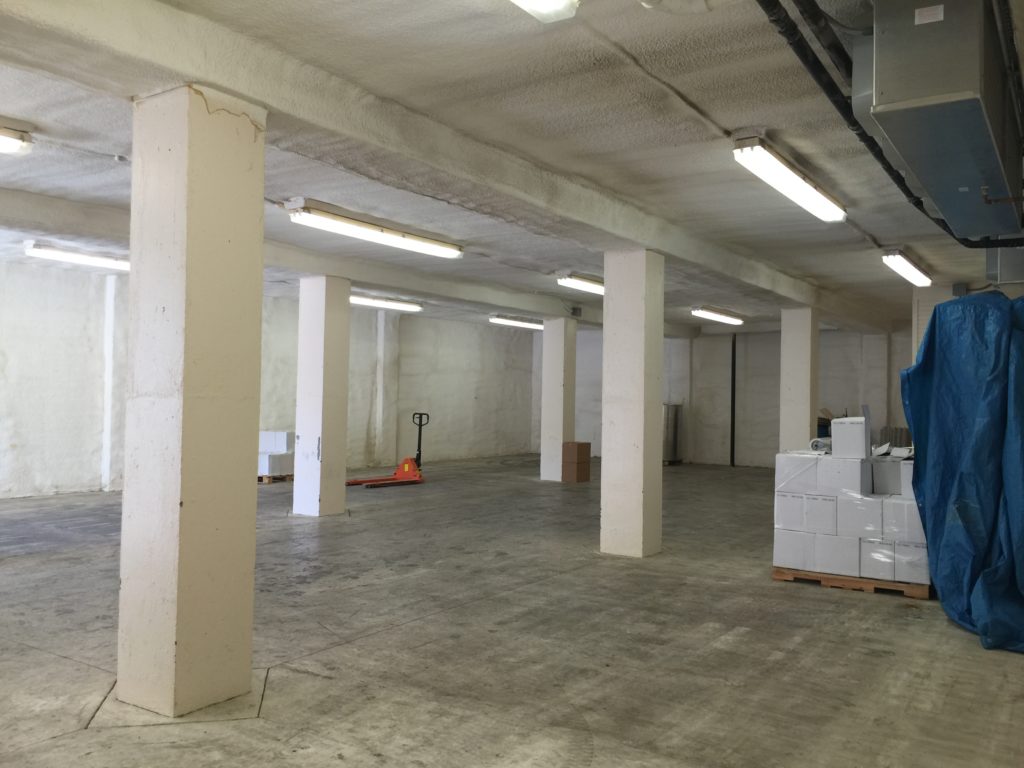 For those of you who didn't know, underneath the Austin House Event Center there is a full 2800 square foot basement that was originally purposed for case storage.
In the recent years, quenching Texans' thirst for Texas wines had become an uphill battle and Brennan Vineyards wine production quickly outgrew our wine storage. A good but problematic issue to have!
In the spring of 2016, Brennan Vineyards received a grant from the Comanche Economic Development Council that would help to grow our business in terms of a new and much larger case storage facility (64,000 cubic feet) and help with the purchase of a new bottling line to be housed in the former barrel room of the winery (more details coming soon).
And with the new case storage facility up, we were suddenly left with a sad and empty basement that would soon become the new home of the Brennan Vineyards barrels (which for the past few years we have been hiding in every open space possible). Inspired by beautiful sub-surface barrel storage and tasting venues of some of the greater known wine regions, we set out on a renovation journey to create a beautiful barrel room and private tasting venue.
The Colors: Benjamin Moore Paint Nature's Scenery (walls and ceiling) and flat black (floors)
Special Features: Romantic Lighting, Strategic Spotlights, Sliding Barn Wood Door, Custom Sawhorse Tables (together make a grand 40 foot table), Antique Early American Corner Cupboard (awards cabinet)
We are thrilled to say that the Cellar is officially ready for our 'Annual Barrel Tasting' at the Holiday Wine Club Pick Up Party and we cannot wait to share it with you!
What a transformation!
Big Thanks to all who worked so hard on this project and never gave up when things didn't go the way we imagined (many, many, times). Take a look at the gallery below to see the before and after photos.
Prep, Paint, and Lighting by Jackie Middleton and crew.
Custom Woodwork by Travis Conley
Comments
premium basement
@ Dec 4, 2019 at 12:20 AM
Hello , Nice Blog,We are also offering the same services plz visit
https://premiumbasement.ca/ https://premiumbasement.ca/second-unit-basement.php https://www.premiumbasement.ca/brampton-basement-renovation.php https://premiumbasement.ca/mississauga-basement-renovation.php https://premiumbasement.ca/oakville-basement-renovation.php https://premiumbasement.ca/milton-basement-renovation.php https://premiumbasement.ca/vaughan-basement-renovation.php https://premiumbasement.ca/kitchen-renovation.php https://premiumbasement.ca/family-room-renovation.php https://premiumbasement.ca/bedroom-renovation.php
premium basement
@ Dec 4, 2019 at 12:26 AM
BASEMENT FINISHED Basement Renovation
jon
@ Jan 6, 2020 at 3:46 AM
Give us more stuff like this to get more information for us./
yourtexasbenefits
@ Aug 22, 2020 at 7:53 AM
I was taking a gander at some of your posts on this site and I consider this site is truly informational! Keep setting up..
MardonConstructions
@ Aug 27, 2020 at 11:52 PM
Mardon Construction Corp has a physical office located in Oakville, Ontario. We will gladly set up meetings at your home, or you can come and visit us at our office location and see some of the options you have for Home renovations oakville
The stone Cut
@ Oct 5, 2020 at 11:54 AM
Wow.! Amazingly Article every people get easily find it :)
Emmanuel Kirk
@ Nov 11, 2020 at 2:41 AM
They provide many cellars to the people for the sake of their important projects. People who want big cellars for the manufacture of wine they use to hire these cellars to compete with their projects.
AR app development company
@ Nov 16, 2020 at 4:24 AM
Wonderful blog! Do you have any tips and hints for aspiring writers? Because I'm going to start my website soon, but I'm a little lost on everything. Many thanks!
Brand influencer platform
@ Nov 17, 2020 at 5:25 AM
Pretty nice post. I just stumbled upon your weblog and wanted to say that I have really enjoyed browsing your blog posts. After all I'll be subscribing to your feed and I hope you write again soon!
cna classes online
@ Nov 19, 2020 at 3:44 AM
Thanks for taking the time to discuss this, I feel strongly about it and love learning more on this topic. If possible, as you gain expertise, would you mind updating your blog with extra information? It is extremely helpful for me.
four slice toaster
@ Nov 19, 2020 at 5:22 AM
I think this is an informative post and it is very useful and knowledgeable. therefore, I would like to thank you for the efforts you have made in writing this article.
James River Capital
@ Nov 20, 2020 at 1:43 PM
You have a good point here!I totally agree with what you have said!!Thanks for sharing your views...hope more people will read this article!!!