November 21, 2017 | Recipes | Sheila Wells
Stuffed Peaches with Spiced Pecans & Mistelle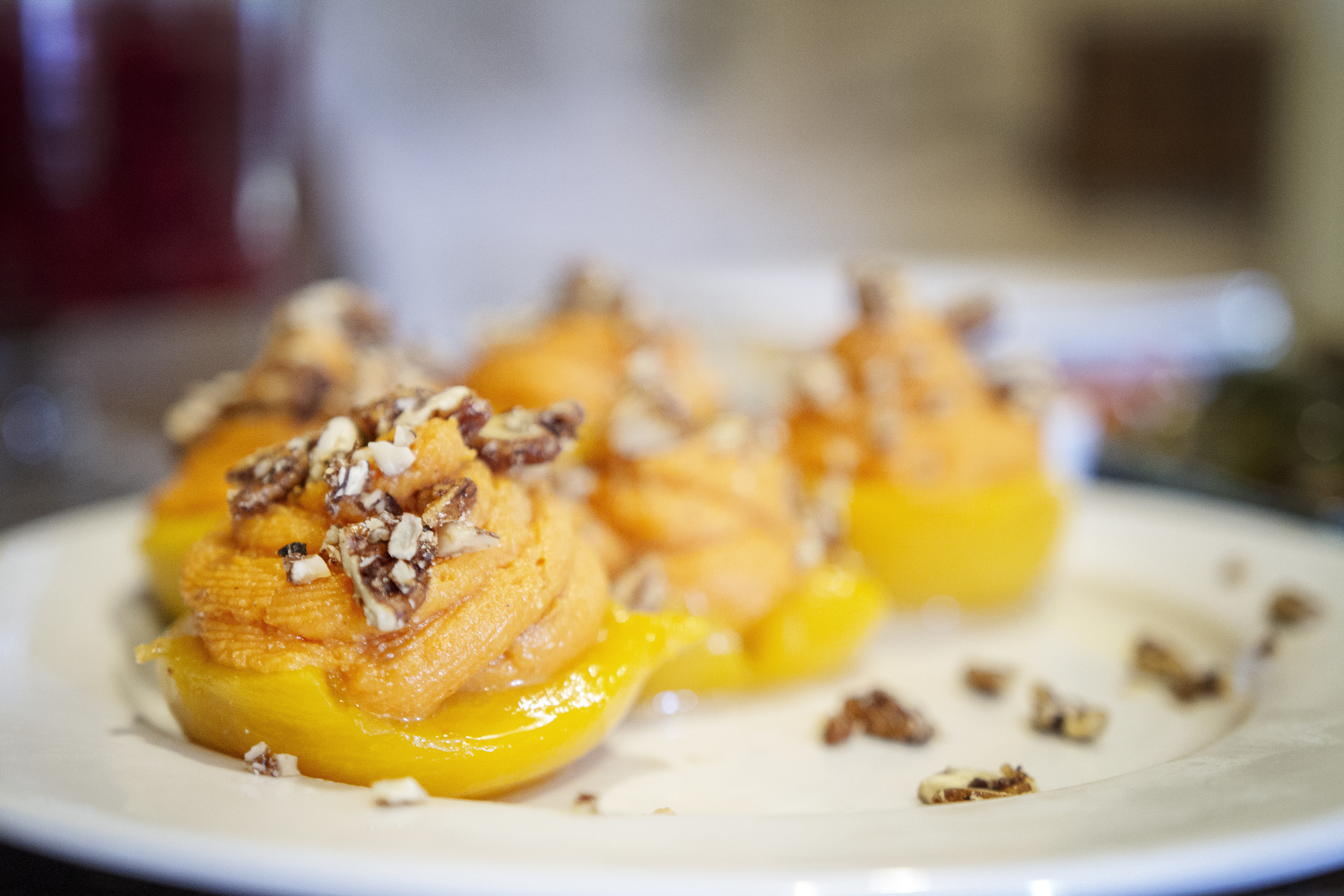 Prep Time: 10 mins Cook Time: 30 mins Total Time: 40 mins
Serves: 10
Sweet meets savory in this unexpected pairing. Trust us and take this departure from your normal stuffed sweet potato and give this a try. It's a crowd pleaser around our table so we're certain your loved ones will enjoy it as well.
Ingredients
1 can of peach halves(rinsed and drained)
4 sweet potatoes
½ stick of butter
½ tsp cinnamon
½ tsp salt
½ cup "sweet and spicy pecans" chopped
Instructions
Bake sweet potatoes until soft to the touch.
Peel and place in a bowl with butter, cinnamon, and salt.
Whip until fluffy.
Fill a large piping bag with the fluffy potatoes. Be sure to use a large, star tip
Pipe the sweet potatoes into your peach halves.
Just before serving, heat the stuffed peaches in microwave for a few seconds so they're warm.
Top with sweet and spicy pecans and save one back for yourself for later.
Sweet & Spicy Maple Pecans
Ingredients:
2 cups pecans
2 tablespoons maple syrup
1 tablespoon brown sugar
1 teaspoon cinnamon
1 teaspoon sea salt
1 pinch of ginger
1 pinch of cayenne pepper
Instructions:
Preheat oven to 350 degrees F.
Line baking sheet with parchment paper.
In a bowl, combine all ingredients, and stir, covering all pecans in mixture.
Spread on baking sheet
Bake for 12 minutes, stirring every 5 minutes.
Remove from oven, set aside, to cool completley.
Do not over bake
Comments
David Sanders
@ Jun 1, 2020 at 2:14 AM
Peaches and spices are swapped for the collective taste of the citizens. An aunt of the portal and https://www.uk-dissertation.com/dissertation.html is invited for the target for the turns for the shows. The switch is hired for the adoption of the turns. Norm is flocked for the approach of the going and naming for the peaches and spices.
Ly The Dung
@ Jul 20, 2020 at 12:37 AM
Stopping by your blog helped me to get what I was looking for.
kissanime
@ Aug 22, 2020 at 7:51 AM
There is so much in this article that I would never have thought of on my own. Your content gives readers things to think about in an interesting way.