November 21, 2017 | Recipes | Sheila Wells
Stuffed Peaches with Spiced Pecans & Mistelle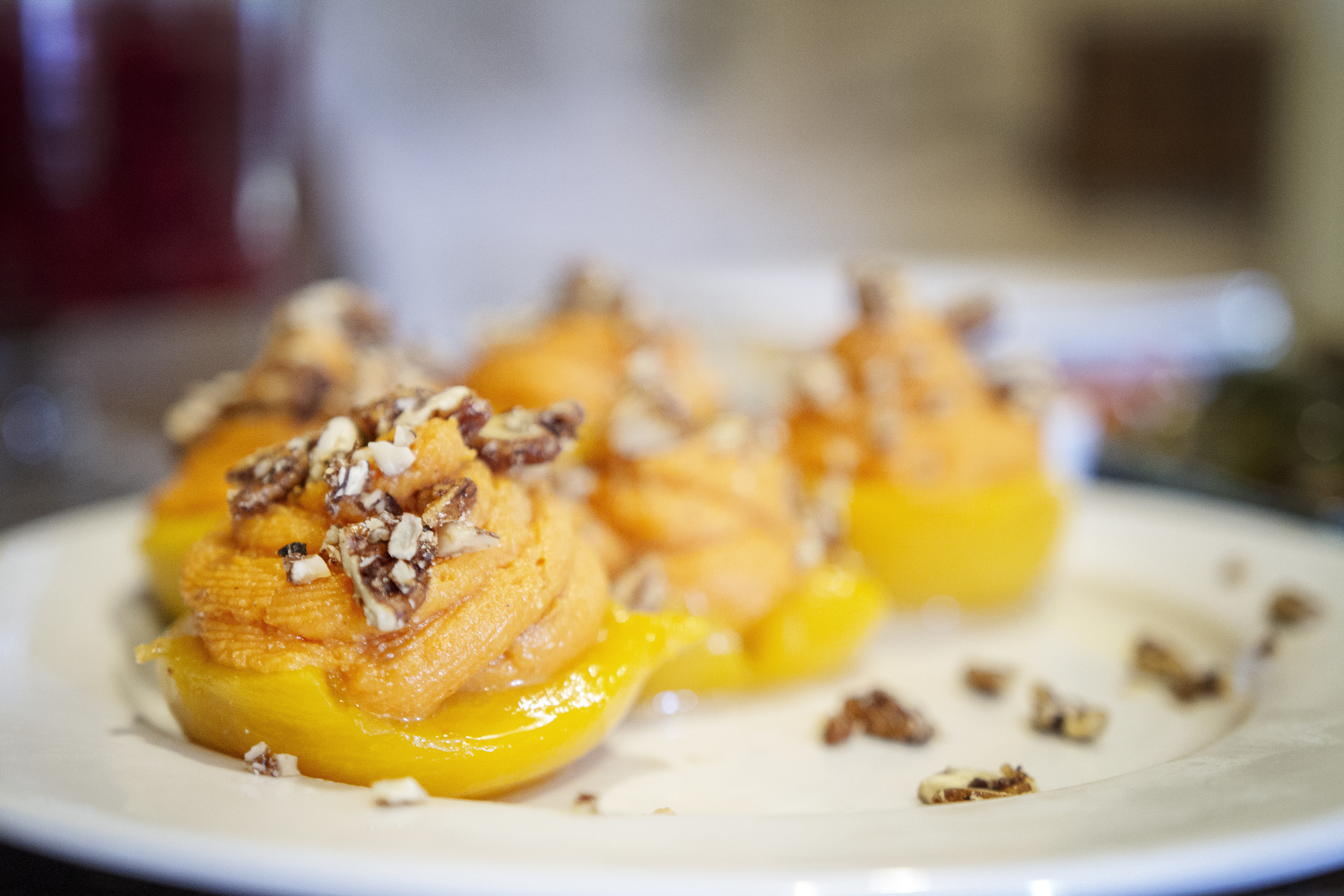 Prep Time: 10 mins Cook Time: 30 mins Total Time: 40 mins
Serves: 10
Sweet meets savory in this unexpected pairing. Trust us and take this departure from your normal stuffed sweet potato and give this a try. It's a crowd pleaser around our table so we're certain your loved ones will enjoy it as well.
Ingredients
1 can of peach halves(rinsed and drained)
4 sweet potatoes
½ stick of butter
½ tsp cinnamon
½ tsp salt
½ cup "sweet and spicy pecans" chopped
Instructions
Bake sweet potatoes until soft to the touch.
Peel and place in a bowl with butter, cinnamon, and salt.
Whip until fluffy.
Fill a large piping bag with the fluffy potatoes. Be sure to use a large, star tip
Pipe the sweet potatoes into your peach halves.
Just before serving, heat the stuffed peaches in microwave for a few seconds so they're warm.
Top with sweet and spicy pecans and save one back for yourself for later.
Sweet & Spicy Maple Pecans
Ingredients:
2 cups pecans
2 tablespoons maple syrup
1 tablespoon brown sugar
1 teaspoon cinnamon
1 teaspoon sea salt
1 pinch of ginger
1 pinch of cayenne pepper
Instructions:
Preheat oven to 350 degrees F.
Line baking sheet with parchment paper.
In a bowl, combine all ingredients, and stir, covering all pecans in mixture.
Spread on baking sheet
Bake for 12 minutes, stirring every 5 minutes.
Remove from oven, set aside, to cool completley.
Do not over bake
Comments