October 5, 2016 | Recipes |
Quick and Easy Venison Bourguignon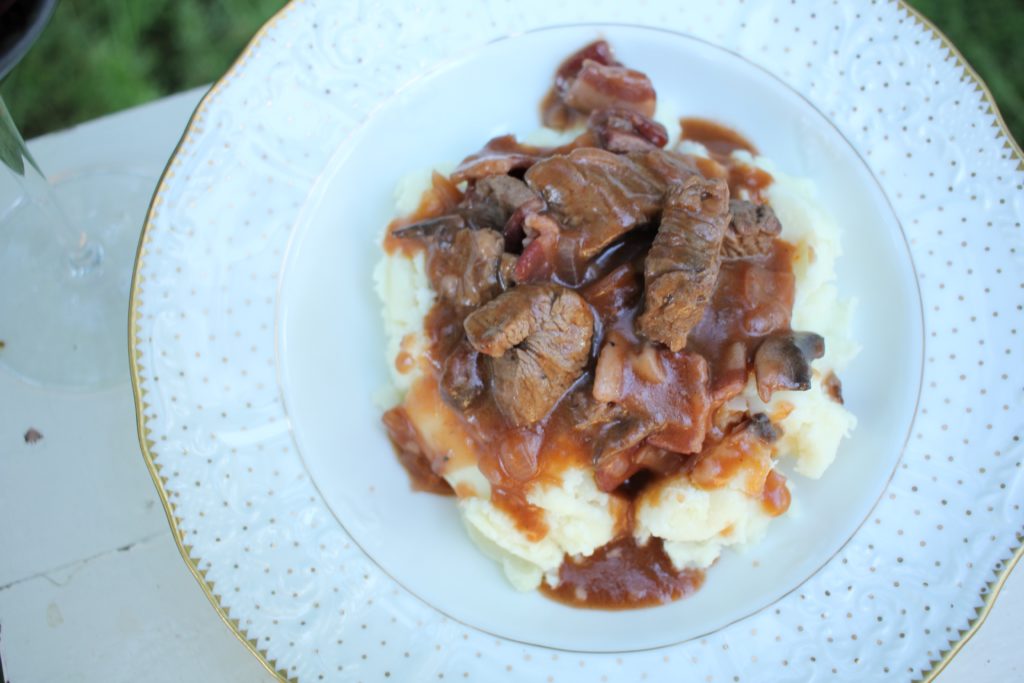 Not only does October begin Texas Wine Month, but it also brings us the start of deer season beginning with bow hunting. That being said, it only seems fitting to bring you a favorite game recipe. This is a quick bourguignon recipe that uses venison instead of beef and is absolutely scrumptious. If you have any venison steak or back strap hanging around from last year, clean the freezer out and make room for this year's harvest!
Helpful Hint: Do not skip the butter or the bacon. Venison is so lean that to make this recipe work, you must add in some fats. Feel free to adjust the amount you want to use, but do not skip them all together!
Ingredients:
1-2 lbs venison (back strap or steak)
1 cup frozen pearl onions
1/4 teaspoon pink salt
1/4 teaspoon fresh ground black pepper
1/2 teaspoon brown sugar
4-6 tablespoons of butter
4 slices of bacon (we recommend Pederson's Natural farms) sliced into several 1″ squares
1 package of button mushrooms sliced
3 garlic cloves, minced
chopped fresh thyme
1 tablespoon of tomato paste (no added salt)
1/2 cup dry red Texas Wine
1 cups low sodium beef broth
2 tablespoons of water
1 tablespoon of all purpose flour
Instructions:
Set out frozen pearl onions to thaw
Cut venison into 1-2″ cubes, or preferred bite size
Pat meat dry with a paper towel. Sprinkle with 1/4 teaspoon of salt and pepper.
Heat dutch over or deep cast iron skillet over medium heat.
Melt butter in pan.
Add seasoned, cubed, venison meat to pan and brown evenly on each side.
Remove venison from pan, and set aside in warm place.
Add bacon square to pan, sauté for 2 minutes.
Add mushrooms to the pan and sauté until brow, stirring occasionally so that mushrooms do not stick to pan.
Add garlic, thyme, and brown sugar to pan and stir constantly for one minute.
Add tomato paste. Cook for one minute. Pour in 1 up of dry red Texas wine, and bring to a boil. You will need to scrape the pan occasionally to loosed up any frond (brown bits).
Cook until liquid has reduced by half.
Add thawed pearl onions and beef broth, bring to a boil. Cook for 2 minutes.
Combine flour and water in small bowl or cup. Whisk with fork until smooth. Add the flour-water mixture and cook until sauce has thickened.
Return browned venison to pan.
Reduce heat and simmer for 15 minutes, stirring occasionally.
Serve over a bed of mashed potatoes, rice, or egg noodles.
Pair with your favorite red wine from Brennan Vineyards! We recommend the Super Nero or Tempranillo!
Comments