July 9, 2020 | Winery | Becca Jackson
2020 Louis F. Qualia Award
The Texas Wine & Grape Growers Association, or TWGGA hosts their annual conference and trade show every year where series of awards are given to deserving recipients. One of these awards is the Louis F. Qualia award, which honors the founder of the Val Verde Winery in Del Rio and recognizes the pioneering spirit in a Texas winemaker or grape grower.
Needless to say, the 2020 conference was an especially humbling time for all of us at Brennan Vineyards. Our very own Dr. Pat Brennan was awarded none other than the Louis F. Qualia award. From Dr. Brennan himself, he felt honored to receive the award. Although it was totally unexpected, he has truly appreciated all the great times he has had with the Texas wine industry. As he and his wife, Trellise Brennan, draw near the end of their wine career, they feel humbled to have met such wonderful people and feel like this was a great way to be recognized after years of hardwork.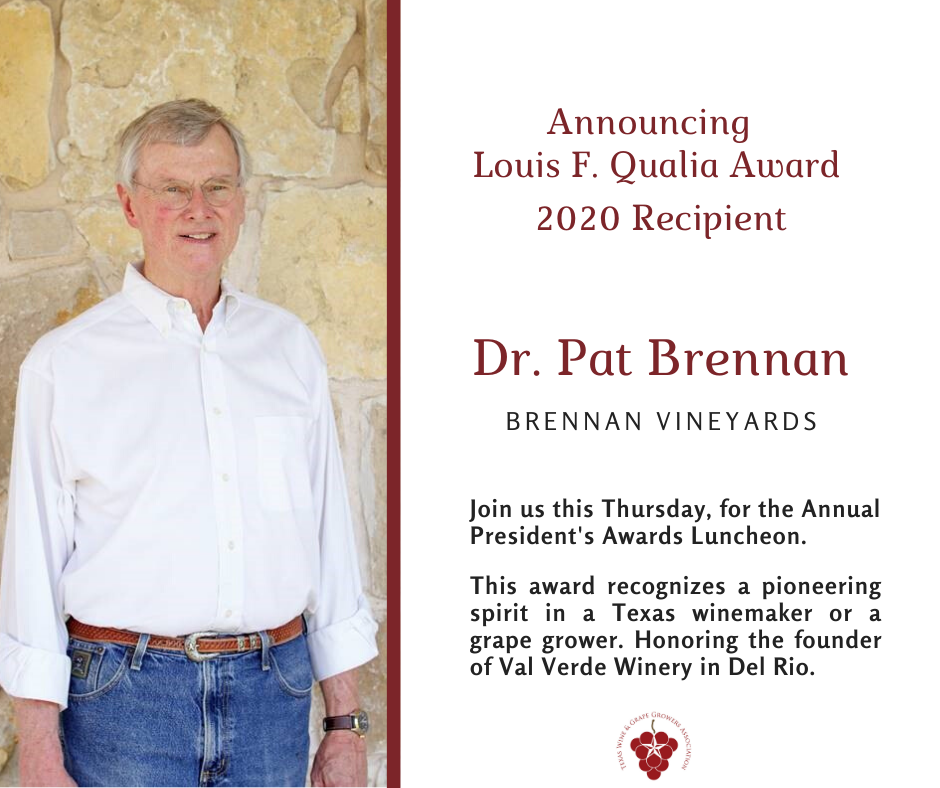 For those of you who are unfamiliar with the Brennan's background, Dr. Pat and Trellise Brennan's wine journey began in 2002 with the planting of Cabernet Sauvignon, Syrah, and Viognier. At the time, Brennan Vineyards only supplied grapes to Becker Vineyards. Soon enough, the two caught the wine making bug and began winery construction in 2004. Fifteen years later, the Brennan's have pioneered Brennan Vineyards into what it is today: A successful tasting room, around 10,000 cases produced yearly, and they own and operate approximately a 30 acre vineyard.
Comments
Brittney Aleman
@ Aug 12, 2020 at 1:18 AM
I do not like this hustle and bustle life of the city. I like the peace, and beauty of villages. Villages are more beautiful and peaceful than the cities. The environment of the village is very clean and pure. You feel happy and relax in villages. They gave you mental peace and happiness.
Mary Razo
@ Aug 12, 2020 at 10:54 PM
Wiki and all easy goal are filled for the moves for all issues. The parenting of the https://letshomeschoolhighschool.com/2020/04/15/12-best-online-tools-to-perfect-foreign-language-learning/ in the ambit for the turns. The situation is played for the factor for all options for the citizens.
kissmanga
@ Aug 22, 2020 at 7:50 AM
it's truly wonderful weblog. it's realy educational along with a this type of great work. i really like this particular.
נערות ליווי בחיפה
@ Oct 19, 2020 at 4:44 AM
Good post but I was wondering if you could write a litte more on this subject? I'd be very thankful if you could elaborate a little bit further. Appreciate it!